Experience Keepsakes Provide the Value You're Looking For
By Nicole Cater, Merchandise Specialist
The days of slapping a logo on "something" are over! Get inspired by some great examples of how to elevate swag and giveaways to the level of memorable "experience keepsakes."
HBO's Westworld at SXSW: A Fully-Immersive Experience
HBO and Giant Spoon, an ad agency, recreated the town of Sweetwater from the hit HBO show, Westworld, during South by Southwest. Visitors entered the space and were greeted with two walls – one with black cowboy hats and the other with white cowboy hats. The hat color they received was determined by a series of "probing questions." From there, participants entered the fictional western town and found themselves face-to-face with dusty streets, guns blazing, a main show standoff, bank robbery, and functioning Saloon.
As with many of these all-out immersive experiences, there were plenty of social media posts, but the curators wanted to have "experience takeaways" as well. Patrick Jong, of Giant Spoon, described the use of promotional products as something that should "feel well-integrated and organic to the experience," in an interview with Advertising Specialty Institute's C.J. Mittica.  In this case, the cowboy hats were a high-quality Stetson that had a branded interior lining. The goal was to have everyone walking around SXSW with these hats creating a visual buzz and bringing in more people. Other keepsakes included coins used at the Mariposa Saloon and personalized letters for all arriving guests.
Whether you have a program that's on the same scale as SXSW, or a more intimate group, follow these three principles to provide experience keepsakes — make the experience unforgettable:
Make it fun
Create an emotional connection
Generate a social buzz
1. Make it Fun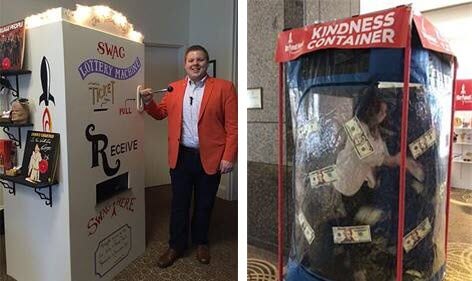 This SWAG "Surprising Wondrous Audacious Giveaway" Lottery Machine was a unique twist on the tradeshow table and an effective traffic driver. Passersby would insert a "ticket" that had their name and email address on it and then pull the functioning lever. From there, someone hidden inside the booth would reach out and hand them a card. The card contained a virtual rewards number to be redeemed for digital music, movies, charitable donations, and more.
Or take the "Kindness Container" – it's your standard cash blowing machine, but with more meaningful contents. The money collected was accompanied by a branded post-it that read, "I agree to use this money to sprinkle kindness in the world," along with a hashtag for people to use to share how they "sprinkled kindness." In addition, they provided buttons that said, "I'm a sprinkler of kindness" and "Kindness Container" mason jars for participants to store loose change in.
The ideas may come across silly, but they are noticeable, provide a storyline, and provoke action.
2. Create an Emotional Connection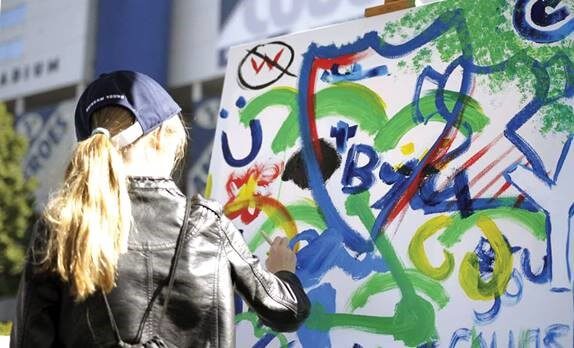 Ideal for a team-building activity — in this example, participants "paint for swag." The host company invited attendees to select a word or phrase associated with the brand in some way. They then asked the attendees to paint what that word or phrase meant to them. The result was a unique piece of art that the attendees got to keep; in addition to having created this emotional connection to the brand's persona. They also received Art inspired swag (journals, colored pencils, puzzles, etc.) for participating.
3. Generate a Social Buzz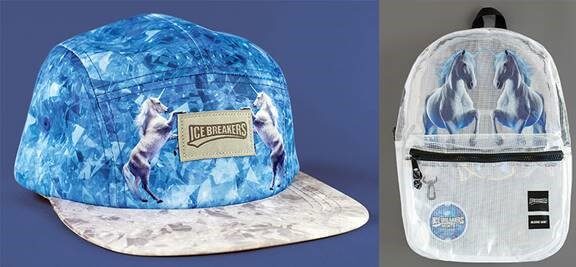 Anthem Branding teamed up with Ice Breakers to create the #UnicornMoment campaign. Targeted towards millennials, they developed a line of unicorn-clad promo products. The products included a see-through custom backpack, trucker hat, plush blanket, bobble-head, and T-shirts that said, "I Believe in Me" above the Ice Breakers logo. These items were distributed at college campuses with instructions for how recipients could share their #UnicornMoment through social media. Students used the hashtag to share their milestone achievements on Instagram and Snapchat.
These are just three examples that go beyond "slapping a logo on it." It's well worth the effort to put some thought behind developing unique and exciting giveaways that speak to your attendees and have them wanting more. Not to mention, you'll be creating the FOMO effect as participants bring their experience keepsakes back to the office, wear them out on the golf course, or post them on social media.
Let's Chat About Merch!